The Benefits of Exterior Shutters for Your Home
Once upon a time, exterior shutters served an important purpose. Originally they were designed as window coverings, before glass was cost effective for the average homeowner to own (hundreds of years ago). In the morning, the homeowner would 'throw open' the shutters and let the light of the day in, along with pesky insects and anything else that happened to be floating by.
Today, wood shutters are most often a decorative addition to a home. They offer contrast to the windows as well as the siding of your home. If you have interior molding that is white against a particular wall color, then you understand how contrasts can breathe vibrant life into any structure.
Different Types of Exterior Shutters
There are a few different types of exterior shutters. First are functional shutters. These are commonly referred to as hurricane shutters and are designed to close and seal up on the outside of the window to protect the glass from strong winds or other weather-related phenomena.
Louvered shutters have rows of narrow horizontal slats that can either be moveable or fixed. Most traditional shutters remain fixed as they are not meant to be functional. Shutters can be affixed to the exterior window frames by hinges, allowing them to move, or they can be affixed to the house securely.
There are also solid panel window shutters that provide a more Victorian appearance and can be ideal depending on the siding of your home.
Provide Your Home Personality with Exterior Shutters
You can accentuate your home's simple colour or style by adding elegant and stylish exterior shutters. Low cost shutters can transform any house into a charming abode that will feel welcoming every time you come home.
Call For Pricing
or Schedule a
Free In-Home
Consultation
Call Now
1-905-953-0801
In line with all of our other shutters, there is a particular method that you should follow when measuring for our shutters.
Shutter Hardware Gallery
Our hardware is of the highest quality and craftsmanship. The finishing touch to make your exterior shutters look great.
Window Shutter Collections
Our premium exterior window covering products will make your home or business feel and look great for generations to come.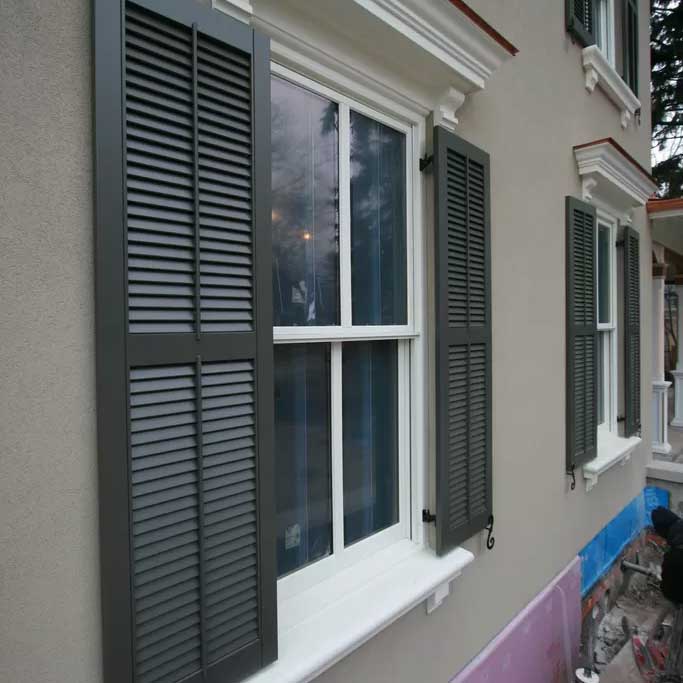 How to Install Shutters
The exterior of a home is the first impression, and shutters can make or break that first impression! Here's how we install your new shutters.
For Pricing or to Schedule an In-Home Consultation, Call Us At: 1-905-953-0801 or