Interior Shutters Enhance your Home
If you're a person who wants to relax and enjoy the finer comforts of your home, then you likely spend time and money on the ideal interior design. You may spend a great deal of money on furniture, settings, moulding, paints with pleasant colors, beautiful art to hang on the walls, and any other kind of enhancement you can think of. Then, when it comes to the windows, curtains, shades or drapes are the most common choice. While these may serve their purpose, interior shutters are not only stylish and elegant, they provide a great deal more privacy and function.
Interior Shutters Save You Money
When you place shutters on your windows, you can save a considerable amount of money on your cooling bills during the summer months. Not only do interior shutters provide an extra layer of insulation over the windows –which is energy efficient for any season, they block more sunlight, keeping your home cooler in the summer.
By adding wood shutters, you will save money on your cooling bills in the summer and heating bills in the winter.
Easier to Clean
Our shutters are far simpler to keep clean than any other window décor. You'll spend less time worrying about dusting between the blinds, removing the curtains and drapes to wash them, or struggling with shades.
A Wide Variety to Suit Your Design Desires
You can choose from the following type of interior shutters:
Plantation Shutters
California Shutters
Traditional Shutters
Miami Shutters
Solid Panel Shutters
Simplify Your Home
With Canada Custom Shutters, your home's design is simple and attractive. Add a new dimension of style to your home's décor with interior shutters.
How to Measure For Interior Shutters
There is a specific way that you should measure your window shutters in order to get the best fit possible.
Collections
Our collection of premium interior window coverings will make your home or business feel and look wonderful for generations.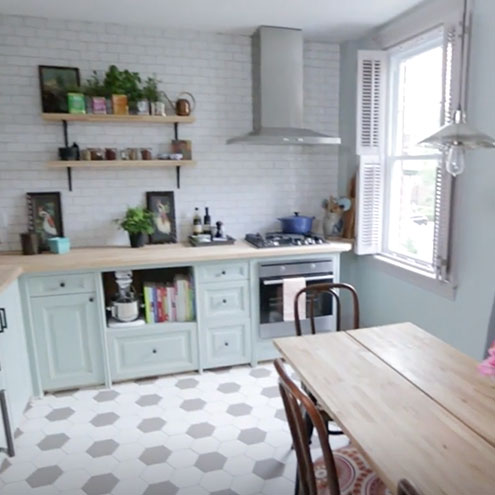 Video: House & Home Online
In this video on House & Home TV Online, see how our color-matched shutters help brings the design of this bistro kitchen together.
10 Reasons to Choose Wood Shutters
There are plenty of reasons to choose wood shutters for your interior window covering needs. Here are just the first 10.
Call For Pricing
or Schedule a
Free In-Home
Consultation
Call Now
1-905-953-0801
For Pricing or to Schedule an In-Home Consultation, Call Us At: 1-905-953-0801 or