Call For Pricing or Schedule a Free In-Home Consultation
Call For Pricing
or Schedule a
Free In-Home
Consultation
Call Now
1-905-953-0801
Canada's Premier Wood & Vinyl Shutters and Louvered Doors
SUPERIOR QUALITY
As Canada's leading manufacturer we strive to build the finest quality Custom Wood Shutters available! We rigorously test and refine our designs to ensure you will have a lifetime of enjoyment from all our products while offering the largest selection of wood shutters available anywhere and the widest array of louvered products from a single manufacturer. For nearly 40 years our family and our select team of artisans have created beautiful custom crafted wood shutters and louvered doors to enhance interior spaces and exterior facades of Canada's finest homes.
BEST INDUSTRY WARRANTY
Our Lifetime warranty on interior wood shutters and 10-year Warranty on Exterior wood shutters is the best in the industry! Our family's commitment to consistently deliver a superior quality service excellence and a stellar customer experience for each client distinguishes us as the industry's leader!
Family Tree Continuing the Legacy
We are a family owned and operated Canadian business founded on the craftsmanship of four generations of fine carpenters. Our interior and exterior wood shutters, and louvered doors are the culmination of our lifelong love of wood, respect for tradition, and ongoing pursuit of innovation and excellence.
We continue to remain at the forefront of our industry, as we embrace leading-edge processes and technologies to protect and prolong the beauty, integrity and longevity of the raw materials we discriminately select. The result is a finished product of superior quality beyond compare.
Four generations of fine carpenters with a passion for woodworking and innovation bring you the best interior and exterior wood shutters and louvered doors in the industry.
At Canada Custom Shutters, we believe that the best compliment to your space starts perfect window coverings. Our promise to you is to consistently provide shutters of the highest quality products, service, and craftsmanship at an unmatched value.
We are committed to providing exceptional customer experience every step of the way our team will meticulously measure, design, and install ideal shutters for your home.
In addition, we offer an extensive hassle-free warranty on all our solid wood shutters, so you can be sure that your investment will be protected and will leave you feeling more satisfied than when we met.
What are window shutters?
Window shutters are a type of window covering that consists of a solid, often slatted frame mounted on the outside or inside of a window. Shutters are typically made of a variety of materials, including wood, vinyl, or composite materials, and are used for both decorative and functional purposes.
Window shutters are classified into two types: interior shutters and exterior shutters. Interior shutters are installed inside the window frame and are frequently used to control the amount of light that enters a room or to provide privacy. Exterior shutters are typically installed on the outside of a window and can provide storm and other severe weather protection.
Window shutters come in a variety of styles and sizes, with wide slats that can be adjusted to control the amount of light and air that enters a room.
California shutters, Plantation shutters, combination panel shutters, traditional shutters, and Oceanview shutters are among the additional styles available. Click here to see our exterior styles.
Why should I choose shutters over other window coverings?
There are several reasons why shutters are a great choice for window coverings. Here are a few key benefits:
Versatility: Shutters can be customized to fit any window shape or size, making them a great option for both traditional and non-traditional windows.
Privacy and Light Control: Shutters provide excellent privacy and light control. With adjustable louvers, you can easily control the amount of light that enters the room while still maintaining privacy.
Durability: Shutters are made to last. Unlike other window coverings that may need to be replaced frequently, shutters are built to withstand wear and tear and are a long-term investment for your home.
Energy Efficiency: Shutters provide an extra layer of insulation for your windows, helping to regulate the temperature inside your home and reduce your energy bills.
Aesthetics: Shutters add a touch of elegance and sophistication to any room. They come in a variety of materials, finishes, and colors, allowing you to customize them to match your home's décor.
Overall, shutters are a versatile, durable, and stylish choice for window coverings that offer numerous benefits for your home.
What is the difference between Wood and Vinyl shutters?
Wood shutters have a classic look and feel that is hard to replicate. They add warmth and cosiness to any room, and their natural wood grain adds character and texture to the decor of your home. Wood shutters are also more durable than vinyl shutters, and with proper maintenance, they can last for many years. Furthermore, because wood is a renewable resource, it is an environmentally friendly option.
Vinyl shutters offer a budget-friendly alternative to wood shutters while still providing a comparable aesthetic. These shutters are typically constructed with hollow extrusion, resulting in a lighter weight and a different tactile experience compared to their wooden counterparts. If vinyl shutters get broken, they will need to be replaced because parts are harder to find. However, their resistance to moisture makes them an ideal choice for spaces with high humidity, such as bathrooms and kitchens. While vinyl shutters may lack the authentic texture of wood shutters and may not increase the value of your home to the same extent, they remain a practical option for those seeking a similar look without a significant financial investment.
Wood shutters have a slight advantage over vinyl shutters due to their durability and timeless appeal. When wood shutters and vinyl shutters are compared side by side, this becomes readily apparent. Wood shutters are an excellent long-term investment that will increase the value of your home. Vinyl shutters, on the other hand, may be a better option if you are on a tight budget or looking for a low-maintenance option. Finally, it comes down to your personal preferences and budget.
Are solid wood shutters expensive?
While solid wood shutters may be more expensive in the short term than other window treatment options, it is important to consider the long-term value and durability they provide.
Solid wood shutters, unlike other materials, are built to last. They are made of high-quality wood that is resistant to wear and tear, ensuring that your investment will provide beauty and functionality for many years. Furthermore, solid wood shutters are a timeless addition to any home, and their classic design can improve the aesthetic appeal of your home and even increase its resale value.
When you choose solid wood shutters, you are investing in both the quality of your home and your own peace of mind. Solid wood shutters, as opposed to other window treatments that may need to be replaced every few years, provide a low-maintenance and long-lasting solution that can save you money in the long run.
While solid wood shutters require a higher initial investment, their long-term value and durability make them an excellent choice for any homeowner. When it comes to your home's window treatments, don't skimp on quality – choose solid wood shutters for a beautiful, functional, and long-lasting addition.
Will shutters match my decor?
Shutters are a versatile window treatment that can be used to complement a wide range of home decor styles. They are available in a variety of materials, including wood, vinyl, and composite, as well as a variety of colours, finishes, and designs. For example, wood shutters can add warmth and texture to a traditional or rustic decor, whereas white vinyl shutters can create a crisp and clean look on a budget. 
How long will it take to get my window shutters?
The manufacturing time for wood shutters varies depending on the size, number of windows, and complexity of the design; however, the process from manufacturing to installation generally takes 3 to 4 weeks.
Do window shutters provide privacy?
At Canada Custom Shutters, we understand that privacy is essential when it comes to your home or office space. That's why our premium-quality window shutters are designed and installed to offer the utmost privacy for your peace of mind.
Our shutters are made with care and precision so that when they are fully shut, they form a border that keeps individuals from peeking into your private space. Even in the busiest places, you can be sure that our shutters will keep your privacy safe.
Overall, window shutters can be an effective way to provide privacy; however, it is critical to select a design that meets your needs and, at Canada Custom Shutters, we ensure proper installation to avoid gaps or other issues that could compromise your privacy.
Can shutters be installed on any window?
Shutters can be installed either inside or outside the window frame, depending on the desired look and functionality. Inside-mounted shutters are ideal for those desiring a sleek, contemporary appearance that blends in perfectly with the window frame. Outside-mounted shutters, on the other hand, can produce a more dramatic effect and are frequently employed to add visual interest to a room.
In addition to their aesthetic appeal, shutters can also provide varying degrees of light control and privacy. Shutters with louvers can be adjusted to let in as much or as little light as desired, whereas solid shutters can provide total privacy and light blockage. This makes shutters an excellent choice for bedrooms, living rooms, kitchens, and bathrooms, where privacy and light control are often top priorities.
In conclusion, shutters are a versatile and attractive window treatment option that can be tailored to fit any window shape or size. With their ability to provide varying degrees of light control and privacy, shutters are an ideal choice for any room in the house. Whether you prefer a traditional or modern look, shutters offer a wide range of design options and functional features to meet your needs
Free Consulting
Our staff will guide you through the easy steps to get a quote that meets your design needs.
Custom Manufacturing
Working directly with a manufacturer like us will save you time and money.
Professional Installation & Repair
Rest assured with an industry-leading lifetime warranty on all products.
"If you're thinking shutters think Canada custom shutters! From the initial sales to completion of the product, Canada custom shutters has given 5 star quality service the whole way through. We are extremely pleased how our custom shutters turned out! They look fantastic in our home."
– Danny C.
"I absolutely love our new shutters… They were responsive and have shown great customer service from start to finish. They delivered and installed our beautiful plantation shutters on time and with a lifetime guarantee on paint and craftsmanship how can you go wrong."
– J S
"Mark and Nick were fantastic, when I would call in, they always seemed so happy to speak to me, I felt like I was their most important customer even though my job was relatively small. Great product bolstered by even better customer service! Bravo."
– Vincent C.
Residential | Commercial Clients
We have created custom wood shutters for a wide range of clients, from residential home and cottage owners to businesses and industry professionals all over the world! Our Shutters are beloved by architects and interior designers with our select window treatments being showcased in famous heritage properties, boutique hotels, upscale restaurants, luxury retail stores, exotic island resorts, home décor magazines, as well as unique custom installations for iconic brands such as Google, Shopify and the New York Stock Exchange.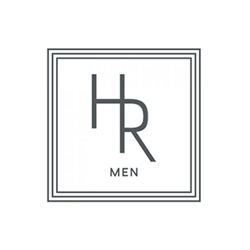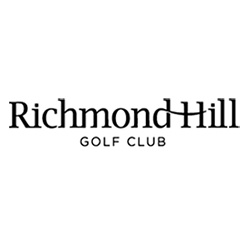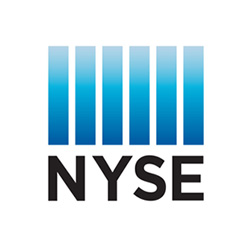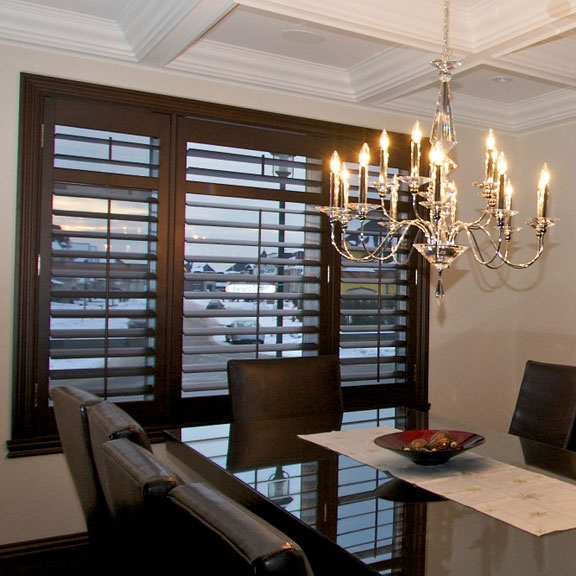 Wood vs Vinyl
Although technology has made owning shutters affordable using vinyl. This cheaper option vs wood shutters will cost you in the long run.
10 Reasons to Choose Wood Shutters
There are plenty of reasons to choose wood shutters over any other kind of window coverings, and it's a good idea to understand.
Artistry and craftsmanship go into making wood shutters, which is why they are a great compliment to any home. Unlike their vinyl counterparts, wood shutters are made.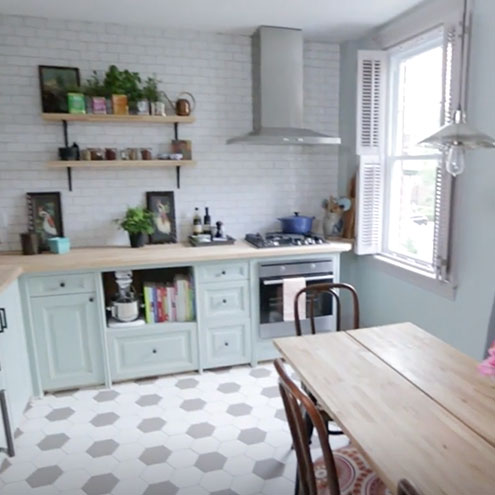 Video: House & Home Online
In this video on House & Home TV Online, see how our colour-matched wooden shutters help this bistro kitchen design come together.
For Pricing or to Schedule an In-Home Consultation, Call Us At: 1-905-953-0801 or